Who the Proceeds Support
The annual holiday fundraiser, presented by The Newburyport Five Cents Bank, is designed to raise funds for designated local charities, and establish a fun holiday tradition for families and the general public. Businesses, individuals, student groups and families from the surrounding communities showcase their decorating talents for the benefit of two worthy organizations—Anna Jaques Hospital and the Salisbury Beach Partnership.
About the Beneficiaries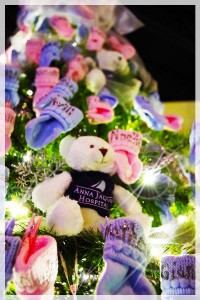 Anna Jaques Hospital is a 123-bed community hospital serving 17 cities and towns in Massachusetts and New Hampshire. Offering a wide range of acute care services to meet patient needs, AJH is clinically affiliated with Beth Israel Deaconess Medical Center, a Harvard teaching hospital. AJH provides inpatient and outpatient surgery, a diagnostic cardiac cath lab, a non-invasive vascular lab, and a birth center with OB/GYN, midwifery, and neonatology. Programs include a leading wound center, a primary stroke service, a comprehensive cancer center, the new Gerrish Breast Care Center and a Level III Trauma Center. The hospital has been named one of the Boston Business Journal's top 10 places to work in Massachusetts in 2010 and 2012.


Salisbury Beach Partnership, Inc. exists to maintain and revitalize Salisbury Beach by developing programs and initiatives that provide cultural enrichment, strengthen the beach as a community asset, and preserve the beach's unique natural assets. During summer months, the Partnership presents festivals, outdoor concerts and weekly fireworks show free to the public.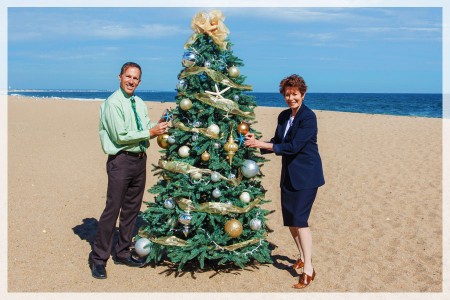 Let the decorating begin! Delia O'Connor, Anna Jaques Hospital President and CEO and Wayne Capolupo, president of the Salisbury Beach Partnership and owner of Blue Ocean Music Hall, get into the tree decorating holiday spirit.