Daily Happenings
150 Sparkling Trees & Wreaths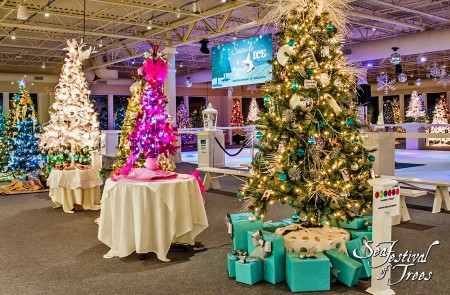 Open for public viewing from Saturday, November 23 – Sunday, December 8
Walk through a maze of beautifully decorated 6-10-foot-high artificial trees that create a breathtaking array of color and lights to form the centerpiece of the SeaFestival of Trees. Trees and wreaths are decorated by a variety of businesses, organizations, student groups and individuals for the purpose of raising monies for local charities during the holiday season. Click here for SeaFestival of Trees Hours + Admission.
---
Giant Gingerbread House Display

On display from November 22 through Mid-January
See New England's largest gingerbread and confectionery creation on display in the Blue Ocean Event Center lobby. The theme for this year gingerbread creation will be Santa's whimsical gingerbread castle village. The 8-foot-tall sugary structure is constructed of edible gingerbread, candy, frosting and other colorful holiday sweets.
---
Holiday Stage Entertainment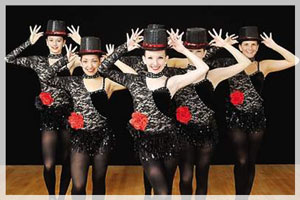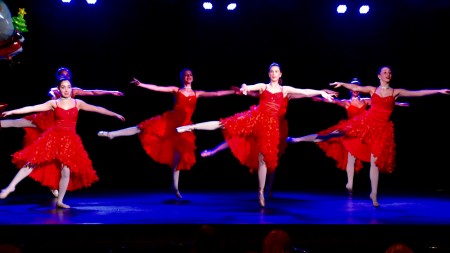 Various Performers, Dates and Times
Regional musicians, dance troupes, choirs and artists will perform on stage in Blue Ocean Music Hall at various times throughout the Festival for the enjoyment of festival attendees. Most of these special performances occur on weekend days.
See dance numbers from the New Hampshire Academy of Performing Arts!
---
Seaside Winter Wonderland Ice Skating Rink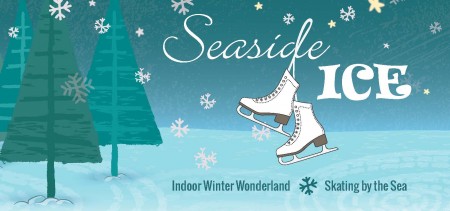 Come take a spin! No hats, gloves and jackets are required as you skate to holiday music with breathtaking views of the ocean on nearly 1,500 square feet of artificial ice at Blue Ocean Event Center's indoor skating rink.. A fun experience for the entire family, from the novice to aspiring figure skater or hockey player! Rental skates are available or bring your own and skate to music by the sea.  Enjoy a bite to eat before, during or after your ice-skating outing in Blue Sky Lounge. The 30 foot x 45 foot rink will be open through February and is available for private rentals and events pending availability. For information on private skating parties, contact Blue Ocean Events at 978-462-5992.
SKATING HOURS: Open skating during Festival hours. FREE with festival admission.
SKATE RENTALS: $5 per person. Children and adult sizes available.
Public Skating ~ on weekends from Christmas break – mid February
Ages 4 and up: $5
Children 3 and under are free.
Winter season hours to be announced. Subject to change pending private event rentals.
Call 978.462.5800 for hours.
---
Santa's Treetop Shoppe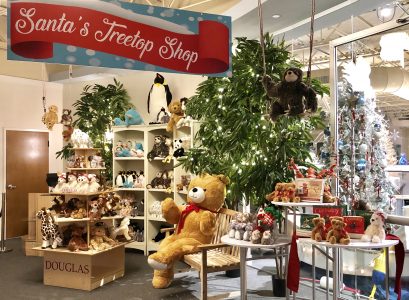 Open daily
Santa's Treetop Shoppe will be filled with festive ornaments and holiday gifts for purchase. For a full array of fabulous holiday gifts, stop by Blue Ocean Event Center's Gift Shop, By the Sea, located in the lobby. Join By the Sea Gifts for Holiday Shopping Nights Thursdays through Christmas. Enjoy complimentary wine and cheese, raffles, shows by local artisans, and 10-20% off gifts from 5PM-8PM on Thursdays in December.
---
Festival Café
Open daily
Grab a bite to eat at the Blue Sky Lounge concession area on the upper level where festival-goers will find fresh sandwich wraps, home-made pizza, fruit cups, cookies, chips and a full bar. Then, take your tasty treats into the adjacent Atlantic Ballroom where you can dine at café tables and chairs while enjoying panoramic views of the Atlantic to the Merrimack River and Cape Ann.
---
Dining at Seaglass and Capri Restaurants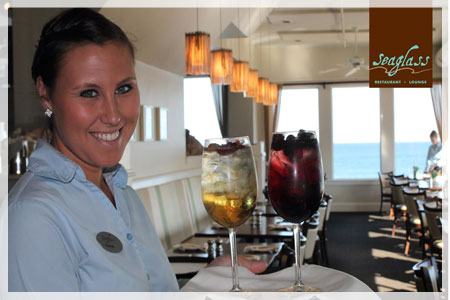 Located on-site inside the Blue Ocean Event Center, Seaglass Restaurant and Lounge is open daily for lunch at 11:30AM and serves dinner until 9PM weekdays, 10PM on weekends.
www.seaglassoceanside.com
Reservations: 978-462-5800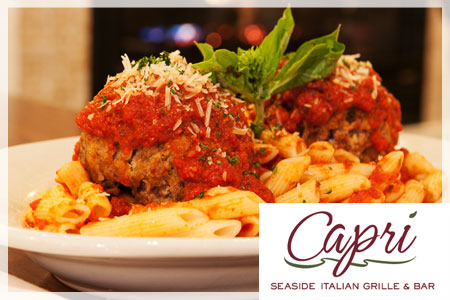 In the mood for great Italian food? Capri Seaside Italian Grille, across the street, is open Wednesday through Sunday for dinner at 4PM. A great place for families, Capri offers classic Italian favorites, pizza and an awesome kids menu. Check out Pasta Night every Wednesday, only $11.99!
www.capriseaside.com
Reservations: 978-462-7543